Medieval Fantasy Faire 2001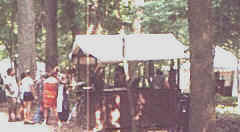 This is our booth in 2001 my husband and daughter built it themselves. They drew up their own blueprints and went to work. This structure can be fully assembled and dismantled within an hour. The top is made of natural canvas that I designed and put together myself. All of us painted it brown to keep it simple. I hand painted The Dusty Rose on the top and then I added yellow and pink wild roses.
These structures are for sale and can be made to your specifications. (Call for a consultation to see what best suits your needs. 1-419-638-1312)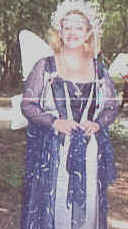 Meet the Queen of The Fairies at The 2001 Medieval Fantasy Faire. The Queen is wearing a simple hair garland that I created for her using sparkling baby's breath and then I incorporated a half circlet and attached it to it.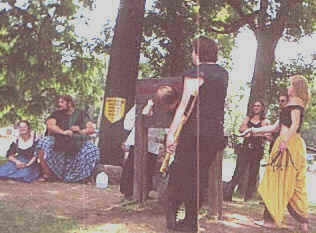 Welcome to Da Brut Squad. This is a group for hire who will arrest you and torment you in front of your friends and family. Tricia in the yellow had the privilege of being their slave girl. Patrons really enjoyed being able to purchase her so that they could lead her around the grounds for a little bit.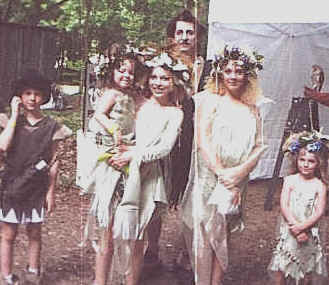 Above Right These fairies were patrons of the park but not for long the owners caught a look at them and immediately signed them to work in the fairy forest. Below Left: Another shot of our booth. Kelly is helping one of our customers decide on a garland while others are checking out our baubles for sale.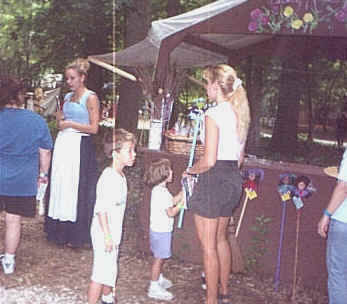 We welcomed a new generation of faire patrons with the addition of these little ones. They really got into it. Their garb was better than a lot of people working the faire.