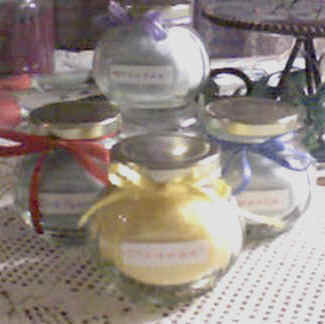 Our Fragrant salts are beautifully packaged in 8oz. glass jars with screw lids.
We also package them in 10oz. plastic bags.
Our Top Seller Dark Huntress was in so much demand that we sold out the first day. We were busy trying to keep it in supply throughout the rest of the faire the response was amazing.
Other Top Sellers Dragon Smoke and French Vanilla were also good sellers. People really like the scents that we came up with.
Our other fragrances include Mulberry, Strawberry, Orange, Freesia, Spirit Blessing, Cherry, Violet, Plumeria, and High Priestess. All of our Bath Salts did quite well and we are very happy to be able to offer them through this site.
| | |
| --- | --- |
| Bath Salts | Bath Salts |
| 8 oz. jar | 10 oz. bag |
| 4.99 ea. | 4.99 ea. |
All of our Bath Salts are ready to use for cleansing rituals before spell casting. Ask at the time of ordering and we will include the specific spell used; Free of charge.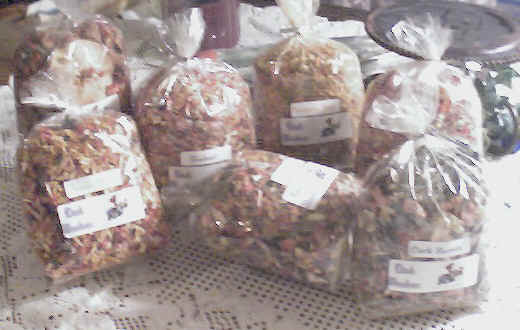 Our Top sellers were Cinnamon Spice and Citrus Blend. Two uniquely blended products that are very strong in scent and pleasing on the sinuses. Others that did quite well were Sinful, Orange spice, A touch of pleasure, and Plumeria.
Our potpourris are made with 100% flowers, herbs, and spices they contain no added dyes. We sell the real thing not scented wood chips that you get in the stores with a few pods mixed in.
We use only real spices such as; whole cinnamon sticks, clove, cinnamon powder, frankincense tears, vanilla beans, Tonka beans. basil, lemon peels, orange peels, rosemary, orris root, dried apples and oranges, and peppermint to name a few.
Our oils such as Ylang ylang, cherry, anise, orange, clove, cinnamon, lavender, rose, French vanilla, mulberry, and freesia are the bought in the purest form.
Our dried flowers include; rosebuds, peony flowers, strawflowers, Dudinea, broom bloom, carnation, geranium, pine needles, lavender, cedar, and baby's breath. We want to give you a product that not only smells good but looks good too.
Dark Skies

Orange Spice

Apples & Cinnamon
Midnight Madness
Black Root (Vanilla)
$.30 per ounce
$.60 per ounce
$.45 per ounce Sold !!!
$.51 per ounce Sold !!!
$.57 per ounce

Cinnamon Spice

Mysterious
Stephan Paree'
Roses & Rosemary
Mystic Meadows
$.48 per ounce
$.27 per ounce
$.52 per ounce
$.38 per ounce
$.93 per ounce
Orient Express
Lavender Mint
Basic Spice Blend
Peppermint & Roses

A Touch of Pleasure

$.57 per ounce
$.36 per ounce
$.75 per ounce
$.30 per ounce
$.46 per ounce Sold !!!

Sinful

Dark Skies

Citrus Blend

Plumeria
Cherry Orange
$.42 per ounce Sold !!!
$.48 per ounce
$1.06 per ounce Sold !!!
$.54 per ounce Sold !!!
$.84 per ounce
Strawberry Cherry
Lavender Fields
$.37 per ounce
$.33 per ounce
Click on a selection for a more detailed description and price guide.
We still have to list descriptions of each of the scents for our customers so that they may decide on which fragrance is best suited for them. In the meantime, while we prepare this information please feel free to contact us personally for info regarding any of our products.